In a world impregnated with images taken straight from fashion magazines and advertising campaigns, professional terms and usages have become an integral part of our everyday language.
    The minimalistic merchandising of concept stores has surprised and attracted a wide audience at the beginning of the 2.0 years. They are the exact replica of  minimalistic commercial showrooms, lit by post-industrial spotlights in order to enhance the visibility of the displayed collections, without distracting the buyers with superfluous decorative messages. Minimalism has become the rule for mono and multi brands retail shops. This is true for fashion shops, but also for garages, bakeries, florists, buchers, banking agencies.. Even our apartments and closets look like minimalistic showrooms
    The spiral bound collections look books which were until then only for journalists and professional buyers are now sent to the good customers, with retail prices. The fashion show videos can be watched in the shops, and sent on CDs to a few privilegied clients.
    The word shopping refers to the packages adressed to fashion journalists by press offices in order to help them create the looks that will be photographed. These looks have to be validated by their editors in chief. Today, young women validate their mum's looks and their friends' points of view. All these  professional terms are now incorporated in the general public's language.
    In the wake of models and actresses, printed press journalists and bloggers, starting by Kenza, have become the new fashion examples to follow for young girl and pose in advertising campaigns.
    The private sales and press sales which were once reserved to journalists in order to allow them to buy the prototypes they used six months earlier to write their magazine piece, are today's conspicuous way of organizing sales intended for the general public.
    A few shops offer or sell to a discount price samples or symbolical gifts called goodies or press gifts.
    Journalists were the first ones to sale to their friends or to their neighbourhoods' resale shops the numerous gifts, often not so expensive, made by brands when they want to attract their attention.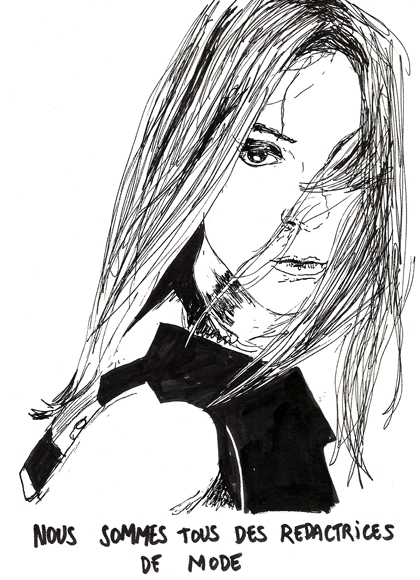 The consumers, who are now aware of the quality and life span of the products they buy, have adopted a professional discourse and a thrifty behaviour.